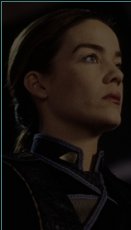 Born: 30 August 2230
Location: St. Petersburg, Russia
Father: Andrei
Mother: Sofie
Brother: Ganya
Psi rating: P1?
As Babylon 5's first officer, Susan Ivanova supervises al day-to-day operations aboard the station.
Born on August 30, 2230, in St. Petersburg, Earth, Susan Ivanova was educated away from her homeland. Ivanova has to overcome several tragedies in her life, including the suicide of her telepathic mother, Sofie, and the death of her brother, Gayna, during the Earth-Minbari War. She also had to come to terms with the death of her father, Andrei, shortly after she assumed her post aboard Babylon 5.
Efficient and hard-working, Ivanova has always been proud to be part of EarthForce and served with John Sheridan on Io. She hates to show weakness and her dry sense of humor is often perceived as being pessimistic. Lieutenant Commander Ivanova was promoted to the rank of Commander by Captain Sheridan in 2259.
We have seen the character of Susan Ivanova grow and progress through four years of one of the finest science fiction shows on television. When first introduced to Lt. Commander Ivanova, we see a tough, efficient but standoffish military officer. Through hardship and joy, Ivanova matured and grew into a sharp witted, loyal, hero of humanity. One of Ivanova's most enduring qualities is her pessimistic outlook on life. It adds to the venerability and edge of the character.
Claudia Christian has created a character that has made a lasting impression on the genre of sci-fi. She turned a role that could have remained distant, into a strong and venerable character, without compromising realism.