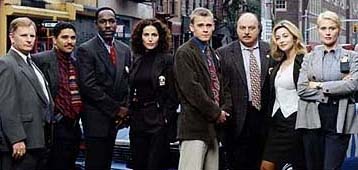 After six years, the cop drama that introduced us to warning labels on television shows is still going strong. Even with the departures of two leading men, Blue has managed to stay constantly entertaining and realistic, without loosing continuity. And with the addition of Andrea Thompson as a regular in Season 5, there is a much more realistic portrayal of a female detective, which was sorely lacking in the past.
Set in New York City, but filmed in Los Angeles, Blue follows the Detectives of the 15th squad as they struggle to solve murders and rapes and deal with one another. Are journey is lead by Lt. Fancy., the backbone of the squad. Det. Sipowicz, who seems to run through partners at a trains reck pace and his wife ADA Sylvia, who kicks crime butt in her own way. The ever present Martinez and Medavoy. Some days I just want to slap Medavoy around. Russell, with her wavering bought's of insecurity and alcoholism. Kirkendall, the rock who's professionalism is not overshadowed by her emotions. And the new guy, Sorenson. Young, blond, blue eyed and ready for action.
I started watching Blue from the very first episode because, like most people, I wanted to see what all the fuss was about. After David Caruso left, I lost track of things for about two years. I started picking up again in the fourth season and for the fifth and six, have been at my TV every Tuesday night. Things can only get better!!